Without sunscreen, my skincare routine is incomplete and pretty counterintuitive. One of my biggest skin problems is the fading of my dark spots and hyperpigmentation. No matter how many retinol, vitamin C serums, or dark spot correctors I use, I know sunscreen is key to actually seeing improvement. I really can't go a day without it, and when I do I notice my spots get darker in just 24 hours. That's why I'm always looking for options with elegant wording that I want to use every day.
Wander Beauty came out with their new Pack Up & Glow Priming Mineral SPF 40 Sunscreen ($36), and I knew I had to put it to the test. The brand is known for creating multitasking beauty products in smart packaging that are perfect for travel. It's no surprise that the sunscreen is catching up; It's a moisturizer, sunscreen, and foundation in one product that effectively streamlines three separate steps in your morning routine. What intrigued me the most was that the brand promises a non-white cast finish with an SPF of 40, which is on the high end of what I've seen and tried so far.
I've been using it for a few weeks now, and after realizing how much I was being reached for it via the other options in my stash, I knew I'd found a new staple SPF. Wander Beauty is best known for its glamorous Baggage Claim best-selling eye masks, but this sunscreen is the best in my opinion.
What I like about Wander Beauty Pack Up & Glow Priming Mineral SPF 40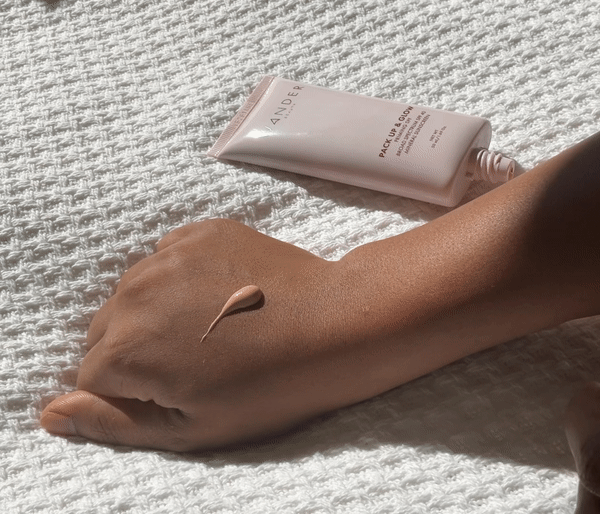 As promised, this sunscreen leaves absolutely no white cast. It comes out as a coral, peachy cream that squirts out as you blend, leaving a radiant finish that gives skin a sun-kissed look – almost like a pearlescent skin illuminator. Pack Up & Glow Priming Mineral SPF has a lightweight, hydrating feel and isn't greasy, sticky or heavy on skin, even when wet or on the hottest of days. It is composed of plant-based squalane and hyaluronic acid to hydrate, bisabolol and allantoin to soothe irritation and an antioxidant complex to fight free radicals. Plus, the radiant finish and silky feel have a skin-perfecting effect, prepping my skin for my makeup routine. In fact, this sunscreen is actually a great foundation for natural "my skin but better" looks with skin tones and a glamor full coverage look.
I have tried and tested many sunscreens to find the best on the market. Finding one that fits my criteria and needs is almost as difficult as dating. However, from the sleek and hydrating texture to the luminous glow finish, I would put this sunscreen straight on every time.
One initial issue I had with this sunscreen was the percentage of Zinc Oxide and Titanium Dioxide in the mineral formula that I was concerned would not be enough to provide optimal sun protection. (There's about one percent zinc oxide and two percent titanium dioxide.) After speaking to Elizabeth Rentschler, Wander Beauty's director of product development, she clarifies, "A proprietary technology that coats zinc oxide contains antioxidants and other ingredients that help optimize the power of the zinc oxide itself and boost the performance of the UV filter.The special coating helps the zinc oxide work as efficiently as possible, which means less UV filter can be used to achieve a higher SPF to achieve protection. The proprietary coating stabilizes the mineral UV filter (zinc oxide) which optimizes its UV blocking power. So we can use less active ingredient." This helps explain why it doesn't feel as chalky as some other mineral-based sunscreens, and also feels breathable on the skin.
Who can use Wander Beauty Pack Up & Glow Priming Mineral SPF 40?
Because it doesn't leave a white cast on my skin, this sunscreen is suitable for anyone with tanned or darker skin tones. The brand says it's best to use the two-finger rule when applying SPF, meaning two strips of sunscreen should be used from the base of the index and middle fingers to the tips for the face and neck. Pro tip to make blending and applying SPF a little easier: apply half the amount of SPF and blend. Then apply the remaining half on top for optimal sunscreen coverage and a sleek non-white cast blend.
I have a fairly normal skin type that tends to be sensitive and this SPF is non-irritating. I can skip my morning moisturizer and use this instead. It feels virtually weightless on my skin and doesn't leave a greasy or heavy feeling, which is great for those with oily skin. If you have dry skin, you can always apply the sunscreen over a moisturizer as it works well with other products and does not pill.
Where can I buy Wander Beauty Pack Up & Glow Priming Mineral SPF 40?
You can get Wander Beauty Pack Up & Glow Priming Mineral SPF 40 at the brand's website, Skinstore ($36), Amazon ($36), and Revolve ($36).
Valuation:

Image Credit: POPSUGAR Photography / Anvita Reddy