Toronto's First Montessori-Inspired Cooking School, Small kitchen academy (LKA), recently opened in the Toronto Beaches area. The cooking classes are designed for children aged three to teenagers. They focus on providing children with a safe, inspiring and empowering space in which to discover, develop and hone their senses.
Based in Vancouver, Canada, the concept was co-founded by proven global brand and franchise expert and serial entrepreneur Brian Curin, his wife, Montessori-trained chef and visionary Felicity Curin, and social impact investor and entrepreneur Praveen Varshney the belief that she and her company are making positive lifestyle changes that lead to a healthier world by providing children with practical life skills and knowledge in a positive and joyful environment. True to its mission, LKA lives the creation of a better educated, empowered and healthier society through mindful, healthy food choices and is committed to transforming lives from the ground up, right through to consumption. Part of that mission includes empowering students to learn how to make the world a better place.
When Hailey Sexton and Eamon Clark heard about Little Kitchen Academy, they couldn't help but feel the opportunity was made for them. Having both worked with their families for years – Eamon with his family helping set up Rodney's Oyster House and Hayley working with her mother at their family-run Montessori school – the pair have always wanted to work together. They realized that opening their own LKA was the perfect blend of their two skills.
We had a chance to chat with Sexton and Clark to find out more…
For people who may not be familiar with a Montessori setting, what would you say is the great appeal of this way of experiencing the kitchen for children?
A Montessori education values ​​the development of the whole child – physical, social, emotional and cognitive. In a typical Montessori setting, you will find thoughtful and scientifically produced work that supports development and growth in language, mathematics, practical life, and sensory refinement. In our environment, we invite children to explore science as they heat ingredients, math as they calculate measurements in our visual measuring cups, and language development as they read recipes or find new words to describe, what they taste.
Our Montessori-inspired pedagogy allows us to emphasize a step-by-step process that is engaging, intelligent, and respects the child's natural human inclinations and developmental level, inviting them to work again and again until mastery is achieved . It also allows students to work at their own pace on what interests them most, which is especially beneficial for our exceptional learners who may need a little more time on a specific task or may be more interested in an area of ​​the process than for the other. We're always amazed to see how much one student enjoys slicing their veggies into precise, even chunks while another student completes the same task faster so they can spend more time washing dishes!
What do you enjoy learning about the young students who come into your kitchen?
Every day our students bring us so much joy and inspiration. Whether it's watching one of our youngest students explain how he organized his three ramekins in order from cold to warm to hot water, or watching a student help their sibling button up their chef's coat, their brilliance is on really magical.
We also love seeing them develop their confidence and independence. At Little Kitchen Academy, we invite our students to make choices throughout the process; want to use honey or agave or maple syrup to sweeten their dish, want to taste brown sugar and white sugar to see the difference, want to harvest something fresh from our Living Food Wall powered by AeroGarden to add to their dish would you like to spend more or less time washing dishes while you bake your food? Our students remind us that all we have to do is give them the environment to shine!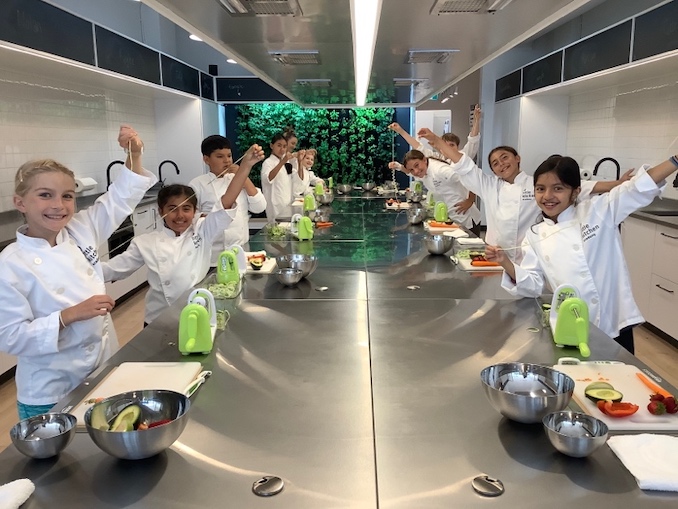 The teachings are also based on seasons – what else can you tell us about that?
At Little Kitchen Academy we love to talk about the wisest and oldest person on earth – Mother Nature! She always thinks of our health and well-being. Mother Nature knows we need many different nutrients at different times of the year, and she makes sure they grow when we need them most. So when you enter Little Kitchen Academy in December, you'll see students chopping delicious fresh kale or grating beautiful purple beets, while in July you can see them chopping up delicious fresh peaches or pitting local cherries!
Another reason for seasonal ingredients is that produce always tastes best right after harvest! We know that a child who may be nervous about trying a tomato will have a better experience if that tomato was picked at the perfect time!
What can students expect in class?
Students experience 3-hour classes once a week for 3 or 4 weeks during the school year or for 5 consecutive days during summer, winter and spring breaks. In each class, they learn how to prepare healthy, delicious, and seasonal meals from scratch to consumption—while experimenting with math and science concepts, working on their reading skills, and brushing up on their table manners by sharing meals at our communal table (made with more than 33,000 recycled chopsticks).
In each class we make a new recipe from scratch to consumption. Recipes range from dishes like eggplant caviar to raspberry peach pie and pumpkin chili! We never repeat a recipe, so students always experience something new. You'll also learn to use different kitchen tools like our spiralizer (a student favorite!) or our visual measuring cups that help our students learn fractions!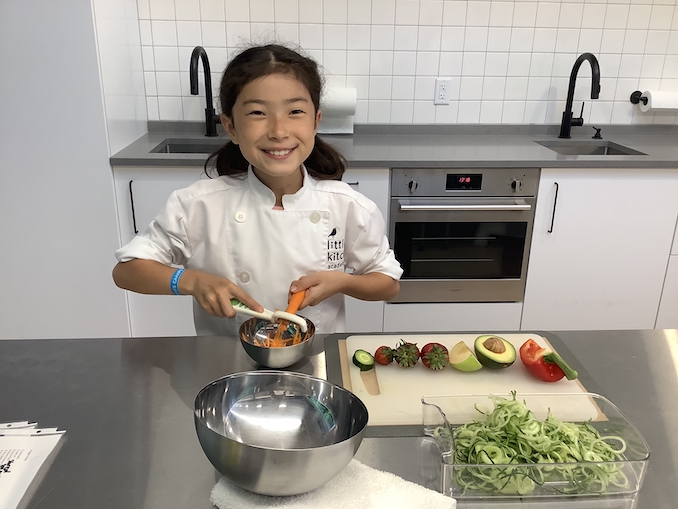 Parents often say their kids are picky eaters, how do you deal with that?
In our kitchen, we don't use the term "picky eater" because we know that most of the time our students just haven't figured out a way to cook the food they love. One of our favorite words is "yet" because there are so many different ways to prepare a meal. Maybe a kid who always said he didn't like tomatoes will discover that he actually likes tomatoes when they're picked, washed, chopped and lightly seasoned? Or maybe caramelized in the oven with garlic and salt and pepper?
We also encourage our students to plant, tend, harvest and prepare produce because we know that if we actively participate in our food choices, we will taste them – and more often than not ENJOY them! Our grow wall has plants in different stages of growth so we can observe, tend and enjoy the literal 'fruits of our labour'!
After all, we never force a child to eat anything in our kitchen. Instead, we celebrate them when they try a new food, and we even celebrate them for only considering a new food, even if they don't feel ready to try it…yet!
do you do birthday parties
While we LOVE birthdays at Little Kitchen Academy, we don't host them. Providing 3 hour classes 3 times a day doesn't allow time in our schedule, although a Little Kitchen Academy gift certificate makes a wonderful birthday gift!
Registration for LKA The Beach is open and LKA Oakville