I'm wearing the Storq Double Scoop Tank Dress at 35 weeks.
Photo: Lauren Ro
When I was pregnant with my first child who is now 3 years old, I wanted to spend as little money as possible on maternity clothes. This often made me feel uncomfortable and didn't make me look very cute. During the warmer months I was able to rotate through my collection of (pre-pregnancy) oversized dresses, but I was due in late February, which meant I spent the coldest parts of winter when I was tallest in bad maternity jeans and whatever spent tops would fit. The outerwear situation was a challenge of its own, and I was always cold.
Now that I'm a few weeks away from my second baby, I think I've finally figured out what works — and what absolutely doesn't — in terms of maternity (and belly-friendly) clothes that are actually comfortable and look good. Here's everything I've worn and loved, from underwear to sweaters to dresses I want to wear after giving birth. And no, you won't find a single pair of maternity jeans here because two pregnancies later I've come to the conclusion that they really are the worst.
With my first pregnancy, I bought a box of maternity underwear from Amazon and called it quits. They've been fine and actually held up over the years (I kept them as a backup), but this time I wanted an upgrade. I bought a couple of these from Old Navy and loved them so much I ordered more (I also have them in tan and white). Incredibly soft and well made, they offer excellent coverage without feeling like granny panties and fit nicely under a growing bump.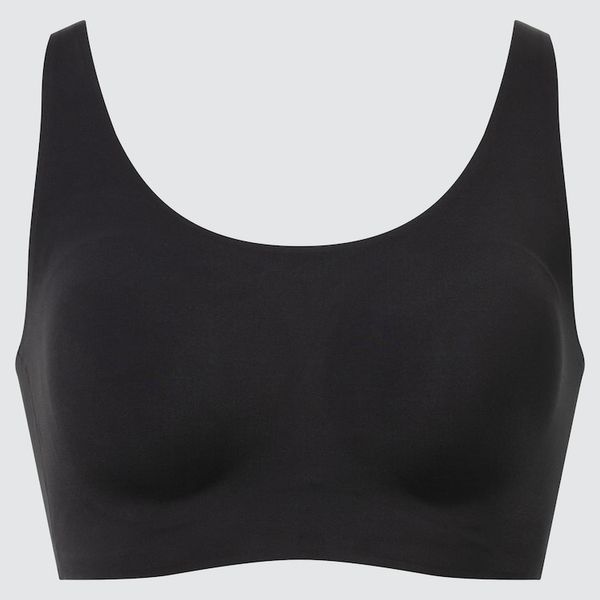 Admittedly, this bra looks a bit dated, but when you wear it you don't even know you're wearing a bra, so it doesn't matter. I wore this and another style (now discontinued) during my first pregnancy, and then it became my WFH bra of choice during the pandemic. It's lightweight yet provides enough support and, being soft and flexible, will conform to your growing breasts throughout the nine months. It's also super durable and looks basically new after more than three years of constant wear. The only caveat is that the neckline is quite high so doesn't work well with button-ups or V-necks.
When I wanted to feel cute, I put on my skims. Whatever you think about Kim Kardashian, she makes some pretty darn good lingerie. These aren't as comfortable as the Uniqlo bra as the bust band is tight and on the narrow side, but they're well made, feel really good, are supportive and quite sexy because of the minimal design. I adjusted the size for pregnancy.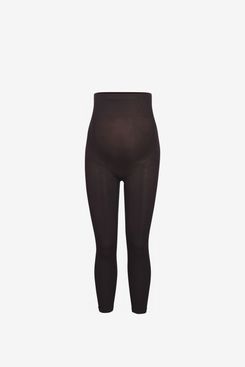 I bought these footless tights to wear under a wrap dress for my cousin's wedding in January and although they were a special occasion purchase I have worn them constantly ever since. As I wrote at the time, I was debating on which size to go for, but I stuck with my normal pregnancy size (S/M) and I'm glad I did. They look tiny, like something for a child, and you seriously doubt they'll fit, but trust me, they will. The legs are super tight and you have to tuck them in somehow, which is tricky when you've got a bulging stomach in the way, but once they're tightened they feel amazing. They provide smoothing and compression in the legs, a slight lift in the butt, and really nice coverage and support in the tummy (they don't feel tight at all). A silicone band prevents them from slipping down. I wear them under dresses when tights feel too warm or too formal.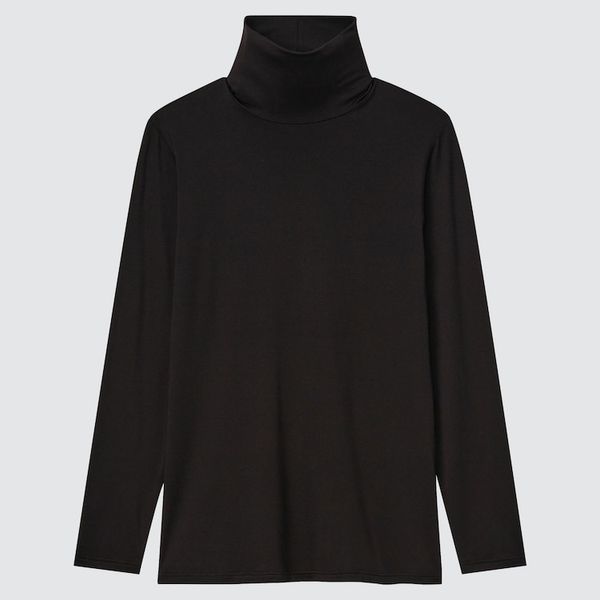 I've been wearing Uniqlo Heattech tops for years and was pleased to learn that they work incredibly well during pregnancy too. They're comfortable, warm, last forever and are super stretchy. I wore them all winter under my Babaà sweaters (see below).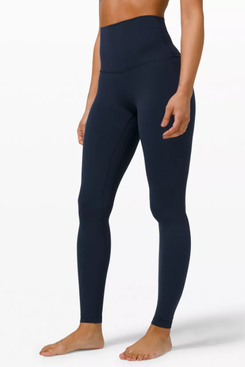 This is really the be-all and end-all of maternity leggings. They are not maternity leggings but they are superior to any actual maternity leggings I have tried. I've worn the same pair through my first pregnancy, the pandemic and now and they have miraculously retained their shape and stretch regardless of the size of my bump. I admit they are extremely pilled but that doesn't bother me as I mainly wear them at home. After over three years of wear there isn't a single hole or snag and apart from the inevitable pilling they don't look the slightest bit worn. As Jessica Silvester, Editor at Strategist, wrote, "They look like leggings but don't feel tight." They're super soft and supple and make my legs and butt look fabulous. she never slide down and not constrict me on my stomach. I hate that they are $100 but they are worth the money. I tried a cheaper dupe available on Amazon but unfortunately they don't compare. Don't hesitate – just get them. Those are the real deals. I bought another pair earlier this pregnancy (in navy) that I am saving for when I go outside.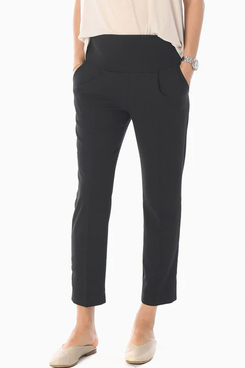 If work or some other situation requires you to wear real pants, then here is your solution. With Augie, I wore a pair of Madewell over-the-belly skinny maternity jeans that I now loathe. For this pregnancy, I figured an underbelly maternity jeans with a looser leg would be more comfortable, and it was for about a minute when these Old Navy straight-leg jeans did the trick. But by the third trimester I came to the conclusion that I never wanted to wear any other pair of maternity jeans again because they just felt so constricting and awful. (Don't get me started on maternity jumpsuits, which I think is a cruel joke the big mama industry made on pregnant women.) As one new mom put it to me, the wrong waistband is one thing Damn, and it's true. But these formal pants – which are also stretchy fake Bund – are actually comfortable. (They're from a brand that makes those Pleats Please-esque jumpsuits that I first read about in The Strategist and would definitely have ordered if I were a jumpsuit-wearing person, which unfortunately I'm not.) The Pintuck pants are lightweight and stretchy but still look like nice tailored pants to wear in a more formal setting such as a corporate office or event. And you can't beat the price.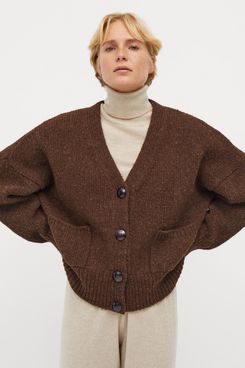 I fell into the Babaà cult and bought this cardigan on sale a few years ago and then last year another (now defunct) sweater – also on sale – and changed it basically every (cool) day during this pregnancy. (Strategy Editor-in-Chief Simone Kitchens also owns the cardigan.) They're oversized and roomy, fitting over a huge bump while still managing to look stylish. I've worn them with my aligns, with jeans (when they were still manageable in the first trimester), over dresses, and on hikes. They're super cozy, look more expensive than they are and are surprisingly sturdy. I'd say they're on the scratchy side, being made from 100 percent Spanish "eco" wool, but it's the thick, chunky, textured knit that makes them so appealing. (Word to the wise: Babaà has frequent sales and ships free from Europe to the US.)
Editor's note: Babaà lists all prices in euros, so the price shown above is an approximate conversion to US dollars.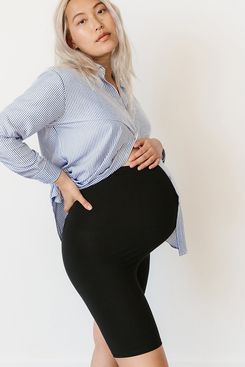 This shirt (in white) was gifted to me by the brand when I was pregnant with Augie. It's an oversized button-up made from the softest modal blend that's as easy to wear (and just as easy to care for) as the name suggests. It does not crease and you can put it on and feel cared for immediately. You can wear it in so many ways: as a shirt over trousers or a skirt or, as I often do, as an open jacket over dresses. Storq was kind enough to send me the striped one for this pregnancy, but even if I didn't I would have bought it myself in a heartbeat.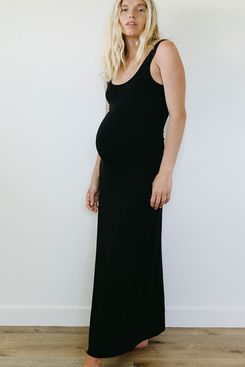 I bought this dress myself from Poshmark when it was sold out on the site. Having tried Storq clothing before, I knew the quality would be top notch even second hand. Made from silky soft, stretchy modal spandex, it feels so huggable and smooth against the body. It hugs my stomach and curves in all the right places and makes me feel really cute. I love the flattering scoop neckline and the thick but not too thick straps and I plan to wear it postpartum as well.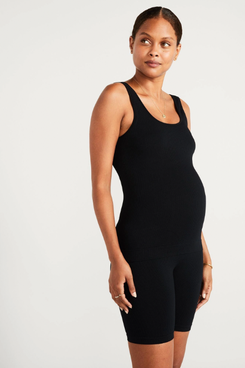 I envision this as a tank version of the dress above. It's from the maternity brand Hatch who were kind enough to send it to me as a gift and it's as close to the ideal maternity tank as I could ever imagine. It's chunky, ribbed, form fitting and doesn't look like maternity wear at all, which is why I was skeptical when I first saw it. But then I put it on and it felt like a hug. It comes with a shelf bra which I was surprised to find comfortable and supportive. The tank top itself is stretchy and fits well around the stomach, and the straps and scoop neckline, like the Storq dress above, are flattering and even sexy.
The Strategist is designed to find the most useful expert recommendations for things to buy in the vast e-commerce landscape. Some of our latest conquests include the best acne treatments, rolling luggage, Pillow for side sleepers, Natural Remedies for Anxietyand bath towels. We update links where possible, but note that offers may expire and all prices are subject to change.