Roots and Rhythms is a new outdoor learning community in Olympia for kids ages 2.5-6. Business partners Sophia Rychener and Sarah Lumper have combined their 35 years of preschool experience to provide an environment that speaks to the wholeness of young learners. "We trust in the autonomy of the child," explains Sophia. The program focuses on love with elements of risk, reflection, joy and commitment. Roots and Rhythms could be called play school or preschool. It is also an alternative to more structured indoor classrooms.
Parents may be wondering, "Can my child be really comfortable outside all the time?" The answer is a resounding, "Yes!" "We dress for the weather," says Sarah. "Kids get used to being outside." Appropriate clothing really works. The children are checked to see if they are warm enough. The outdoor locations have usable covered areas.
Sophia and Sarah met while working at Evergreen State College's children's center. Both started out as student assistants before being hired as teachers. "We studied many philosophies," Sarah recalls. Roots and Rhythms integrates their pedagogical beliefs and the time they spend with youth to create a new learning community
"Roots and Rhythms is an emerging program," says Sophia, meaning they follow the kids' interests. She appreciates the values ​​of Anji Play, a comprehensive educational philosophy that empowers every child to experience extended periods of self-directed, uninterrupted, and unguided play. There are five interrelated principles:
Love: There is power in trusting, seeing, hearing and respecting children. Reliable, responsive, and consistent environments and relationships promote security.
Risk: Children may perform activities based on predictions with uncertain outcomes. This forms the basis for research, learning, discovery and the scientific method.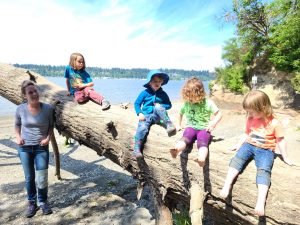 Joy: A clear measure of the quality of early childhood programs is the presence of joy. Children develop inner rewards from experiences of risk, genuine engagement, and discovery.
Engagement: Exploring and discovering the physical and social world creates connection and meaning for young learners.
Reflection: Time is given for reflection, interpretation and understanding of experiences and information.
Trauma-informed care
One of the first activities of the day is the morning circle. This triple experience sounds simple but is complex and powerful in action.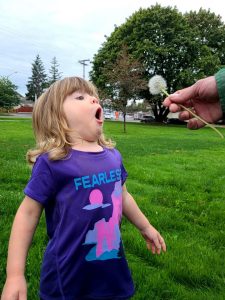 Each child contributes a word that expresses their feelings that day. It can be happy, sad, excited, tired or worried. That way, kids hear that everyone has feelings, feelings change, and all feelings are okay. Next, they share a goal for the day. Then each child identifies who can be asked for help that day if needed.
The morning circle is about children learning to control themselves, to strengthen themselves and to look to the future. This trauma-informed care does not assume that children have suffered trauma, but instead helps create environments that are safe and foster resilience for all children. Then there's the added benefit of being outside. Some children find it helpful to be outside instead of sitting at a desk inside.
Outdoor school is healthy
Being outside every day is good for mental health. Many children spend little time outdoors. Another benefit of the airy classroom is physical well-being, which is especially important in this viral world. "We prioritize vaccinated children," explains Sophia, but it's not mandatory. "We are an open and inclusive space. We want parents to know that their child is welcome."
Parents report positive changes at the Un-School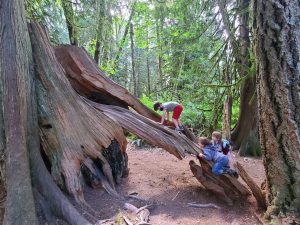 Parents are already giving positive feedback about the changes they see in their children each week. Social and verbal skills improve, as do gross motor skills. Children show more self-confidence. "We model and encourage kindness," confirms Sophia.
Parent Erin Jacobson, a special education teacher in Lincoln, and her 4-year-old son are excited about their experience. "Sophia and Sarah are good at providing safety and adventure," notes Erin, whose energetic son has found newfound joy at school. "He couldn't sit very well," she says, adding, "His self-esteem went up with his self-regulation." He already knows the trails in Squaxin Park and easily guides his parents along the trails to the beach. Erin added that after a long morning outdoors, Griffin has shown a keen interest in spending time at home with books. "He has confidence," she says.
12 slots are available daily from 9:00 a.m. to 1:00 p.m. The low teacher-child ratio allows the attention of all participants. Children can be registered for full or partial weeks.
Roots and Rhythms has a weekly schedule as follows:
Monday and Friday: Circling Together Farm, an organic farm
Tuesdays: Squaxin Park (formerly Priest Point Park)
Wednesdays: Woodruff Park. This is the excursion day – you can take the bus downtown, walk to West Bay Park, etc.
Thursday: McLane Creek Nature Trail
Children bring their own snacks for the lunch break. Parents receive daily notifications through Bright Wheel.
Olympia School Meet & Greet
There will be a Meet & Greet at Bits Café on November 9th from 4pm to 6pm. Meet Sophia and Sarah to talk more about their new learning community. "It's a family. This is the energy we generate," says Sophia. Visit the Roots and Rhythms website for more information.
Sponsored